For several months now, you have probably heard quite a bit of talk about International Junior Miss' Sherri Hill Party that took place just this past weekend. This event was specifically for IJM titleholders and potential contestants to visit Sherri Hill Headquarters and meet with some of pageantry's best in the business. IJM takes great pride in taking excellent care of all of our contestants, which is why we wanted to put together such a special event.
VIP's at the party included IJM Executive Director Nikki Clark, Lu Sierra, Bill Alverson, Keith Pittman with Lasting Impressions Formal Wear, IJM Director of Brand Management Jessica Toussaint, Kathy Whittaker Photography, and of course, Sherri Hill who hosted the event at her Headquarters.
Friday night's event was a spectacular party full of delicious and beautiful food, photo booths and games, and of course big surprises! Each contestant recieved a special Sherri Hill Swag Bag and gift from IJM. Guests spent the evening meeting and socializing with the VIP's, the 2017 International Royalty, and other IJM contestants and titleholders.
Some of the highlights of the evening included special talks from each of our VIP sponsors and the announcement of the 2018 Sherri Hill Opening Number dress for IJM's 10th Anniversary this July in San Antonio, TX!
Afterwards, Nikki Clark and Sherri Hill came together to cut the most beautiful cake to commemorate not only IJM's 10th Anniversary, but Sherri Hill's 10th Anniversary as well!
The night was incredible, full of laughter, newfound friendships, and just a little IJM magic. Check out this video that our IJM Miss New York 2018, Jasmine Rudolfo created to give you a behind the scenes look!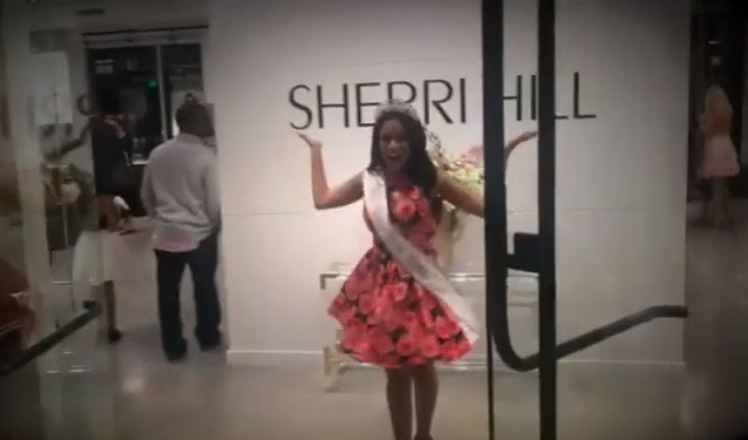 IJM & Sherri Hill Celebrate 10 Years!
Now, that was just Friday… the rest of the weekend was just as incredible! Saturday and Sunday IJM contestants and titleholders spent the day in private one-on-one appointments with Lu Sierra, the official walking coach for Miss USA & Miss Universe, Bill Alverson, one of the most widely renowned pageant coaches in the industry, and Kathy Whittaker Photography, the official photography sponsor of International Junior Miss. Contestants and titleholders also spent the weekend meeting one-on-one with Keith Pittman from Lasting Impressions Formal Wear and Sherri Hill to plan and create one of a kind wardrobes.
My sister queens and I spent our time getting to know more contestants, trying on breath-taking Sherri Hill dresses, and attending private meetings that our guests were able to have with the IJM Executive Director, Nikki Clark and Director of Brand Management, Jessica Toussaint.
In the meantime, I spent most of my day taking over the Pageant Planet's Official Snapchat on Saturday to give pageant goers a behind the scenes look into our Sherri Hill Party.
Other highlights of the weekend included the announcement of the winner of the Fashion Sketch Competition! Earlier this week we asked our IJM girls to submit a fashion sketch for the opportunity to win an exclusive prize from Sherri Hill, which included taking an exclusive look at her office. Mattison Gafner, IJM Arkansas Junior Teen 2018, was announced as the winner on Saturday for her sketch submission! Mattison even had the opportunity to speak with and show a few of her sketches.
Meanwhile, IJM announced even more prize winners throughout the weekend, including the winner of the IJM Raffle Basket that went to Nicki Dipietro. Other prize winners included Free Media Correspondent Entry Winner: Jasmine Rudolfo, Free Photo Shoot Entry Winner: Willow Holmes, Free Photogenic Entry Winner: Mya Blondell Johnson, and Free Option Entry (Any Optional) Winner: Lindsey Pearlman.
Saturday night concluded with gifts and a limo ride for myself, my sister queens, and several former IJM International titleholders! We were driven to Austin's Dave & Busters where we indulged in delicious food and spent hours playing games, taking pictures, and laughing with all of the IJM contestants and titleholders who attended the Sherri Hill Party.
The purpose of this weekend was to not only have a lot of fun and celebrate IJM's and Sherri Hill's 10th anniversary, but to showcase our wonderful sponsors and do all that we can to help our contestants and titleholders excel at the International Junior Miss Scholarship Program and in everyday life. Our hope is that the skills, confidence, and assets that our sponsors give to them will carry over into every area of these girls' lives, whether that is in academics, volunteerism, career goals, or their individual passions. Reflecting back on this weekend, I'm excited to say I think we did just that.
IJM is always full of surprises and you never know what we'll be thinking up next! So stay tuned because International Junior Miss just keeps getting bigger and better with everyday!
All my love,
Haley Pontius, IJM International Miss 2017